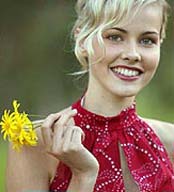 Tasha is one part girl and two parts rabbit in the headlights. She floats through the days with a similar expression to the one that adorned Bambi's mush after somebody pumped his mother full of lead. So why so sad?

Raised by survivalists who dropped out of society to live in a fortress preparing for Y2K (as one does), Tasha was taught to distrust everything. But when her "parents" died in an enormous fire, Tasha became traumatised and began to let her instincts rule: running through the bush in her birthday suit is a regular pastime of hers.

Irene was the only one who managed to quench Tasha's fiery temper and draw her out of her shell. Hang on, though; why the inverted commas around the word "parents"? Well, it's turned out that Tasha's real mother is none other than Angie Russell - and regular viewers will recall that she met a fate similar to Old Mother Bambi. They say that the apple never falls far from the tree, and we're looking forward to Tasha proving the proverb right. But will she let us down by being sweetness and light?

Tasha Andrews is played by Isabel Lucas

Born January 29, 1985 in Melbourne,

After spending one of her childhood years in Switzerland, Isabel Lucas moved to North Queensland and attended Kakadu National Park School. She moved to Cairns at the age of 10, and lived there until she took up her role in Home and Away. Isabel is still in Year 12, but has deferred her studies and is taking her HSC over two years.

Isabel was involved in drama throughout school, thanks to courses at the Victorian College of Arts and Queensland University of Technology, and was discovered by agent Sharron Meissner when on holiday. The auditions came thick and fast, and Isabel originally went up for the role of Kit!

When she's not working, Isabel rides horses and has competed in dressage and show jumping. She loves animals, and keeps various beasts (birds, guinea pigs, horses, a dog and a cat as pets.
She lists some of her favourite recording artists being Jack Johnson, Norah Jones and Ben Harper and her favourite actresses being Nicole Kidman and Penelope Cruz.