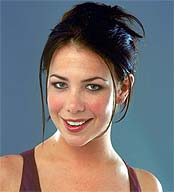 Once upon a time the world was young and Summer Bay was but a twinkle in Captain Cook's eye. And seemingly just a couple of days later, Tom and Pippa Fletcher moved in, bringing their eight-year-old foster daughter Sally with them. The baby of the Bay is all grown up now, though. Having lived there for well over fifteen years, Sally's never had a shortage of people to rely on, some with happy stories and others with tales to tell that would give Tiny Tim a run for his money.

As with any long-term Summer Bay resident, Sally has been through the mill; two foster dads died on her and she called off her wedding at the altar when she found out that her intended had been playing away. Poor old Sal has even had brushes with cancer and mental illness, and we're only skimming the surface...

Intelligent and hard-working by nature, Sally's just about managed to throw off her square reputation by finally learning how to let her hair down. And whilst she's no stranger to the boys of the Bay, she's learned from her mistakes and has now found Flynn, her Mr Right. Or is he just Mr Right Now?

Sally Fletcher is played by Kate Ritchie
Kate Ritchie was born on August 14, 1978, in Goulburn, rural NSW.

Kate Ritchie literally grew up on Australian Television. Kate joined Home and Away as Sally Fletcher when she was only nine years old. She's been on the show so long that when she turned 21 she qualified for long service leave!

Home and Away isn't the only acting work Kate has had. Acting since the age of five, one of Kate's earlier acting jobs included a role in the television mini-series Cyclone Tracey.

Kate managed to get a good education despite the gruelling hours spent working on the show. It wasn't easy, and Kate did her High School Certificate over three years instead of the usual two. She studied English, Maths, Business, Drama, and Textile Design.

When Kate manages to find time she likes to catch up on the latest movies and eat out with friends, although she does love to cook. She has singing lessons once a week and even has her Scuba diving licence - both of these being something that she would like to have more time to pursue.

Her family consists of her parents, two younger sisters and a younger brother. She currently lives in the Eastern Suburbs.