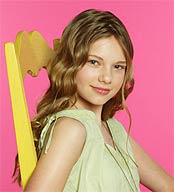 Beth's youngest offspring are twins. So which is the evil one, you ask? The simple answer is that they both are. And they're going through what Beth generously describes as "a difficult phase". In other words, they're the kids from hell...

Fresh to the Bay after a couple of years swanning around a high society boarding school, Matilda wasn't thrilled at the prospect of slumming it at Summer Bay High. Nothing more than a snob, she adopted vegetarianism to get in with the in-crowd at her last school rather than because of a particular belief or an affinity for our four-legged friends. And to make matters worse for herself, she despises Rhys and sees the simple life of a caravan park as quite beneath her.

However, if you chipped away at her drama queen veneer, you'd see that Matilda is riddled with insecurities. She's still not really over losing her dad, but when the chips are down she'll defend her family and fight off the enemy like a particularly yappy terrier. Ruff!

Matilda Hunter is played by Indiana Evans

Indiana Evans, born 27th July, 1990

Indiana has had an interest in acting since the age of 5, when she would perform for family and friends. At age 7, Indiana's parents enrolled her into dance lessons, which started with ballet and then evolved to jazz and tap. She landed her first TV commercial at age 11, and bought a drum kit with the proceeds.

More recently, Indiana landed the role of Abbie Oakley in the television series Snobs, shown on Five. At the time, she had just started her first year in high school, but she could only attend for two weeks as she would be shooting for most of that year. The role of Abbie also required Indiana to learn horse riding and surfing.

Apart from singing, dancing and acting, Indiana enjoys drawing, catching up with friends and shopping. Her favourite singers are Beyoncé and Delta Goodrem, and her favourite actors range from Cameron Diaz to Cate Blanchett.