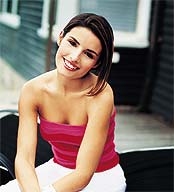 The Australian-born daughter of Greek parents, Leah is a girl with a big heart and an even bigger gob. Jeremy Paxman wouldn't be able to get a word in edgeways when Leah and Colleen are having a gas. However, she's a good listener as well as a motormouth and will always provide a shoulder to lean on.

And boy, has she needed that shoulder herself. Leah's big fat Greek marriage to Vinnie turned from fairytale to farce; her hubby died in jail after being sent down for a crime his father committed, leaving accomplished chef Leah with a lot on her plate. Her on-off relationship with brawn-before-brain man Jesse has hardly lowered her blood pressure.

Proud of her heritage and devoted to her family, Leah is passionate about life and will cry at the smallest injustice. And thanks to the recent drama concerning VJ's cochlear implant, plus all the trauma of becoming a surrogate mother to Sally and Flynn, you can bet that Kleenex sales have skyrocketed in her part of town.

Leah Patterson is played by Ada Nicodemou

Ada, born on May 14th, 1977, was born and raised in Sydney.
Ada had the same phases as any other kid. However, she always wanted to be famous and successful in whatever she did.

Her first break in television was at the tender age of thirteen, when she appeared on Home and Away as an extra. At fifteen, Ada auditioned for Heartbreak High and was offered a twelve-week stint. This turned into a three-year role as Katarina.

After a two-year break studying tourism, Ada returned to television in 1999 and took up the role of Fiona in Breakers. She also had a cameo role in the film The Matrix, starring Keanu Reeves. Eventually, however, she returned to Home and Away.

Ada lives at home with her family and in her spare time enjoys dancing and keeping fit by enjoying the great outdoors and walking everywhere.